Are you expecting a lot of little ones in attendance at your wedding reception?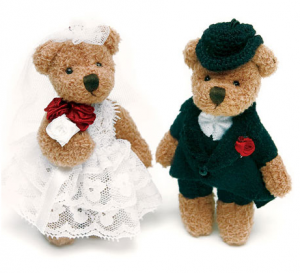 Here's a unique way to include the youngsters in your special day. Just prior to the Bouquet and Garter Toss, have a Teddy Bear Toss for the kids. Imagine how happy the kids will be to go home with a Wedding Teddy Bear. Be sure to have enough Teddy Bears for each child in attendance. If you have gender specific bears (see picture), you may want to have one toss for the young ladies and another for the young men.
The Teddy Bear Toss is also a great way to reserve the Bouquet & Garter Toss for the older generation who at times tend to enjoy some good-natured high jinks with the tradition.
Don't forget the music!
Bare Necessities – Jungle Book
(Let Me Be Your) Teddy Bear – Elvis Presley