Call Tunes by T today at (517) 338-8637 to book your next event!
Tunes By T was founded in 1983 by owner T. Campbell. His passion for music and his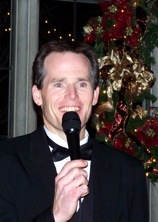 enthusiasm for entertaining quickly became a full-time profession. Tunes by T continues to thrive today because of its commitment to serving the needs of its clients. Our mission is to provide you with only the highest quality entertainment. We have set the standard of professionalism and quality that others are trying to follow. Here are some of the reasons why so many people choose Tunes by T for their entertainment.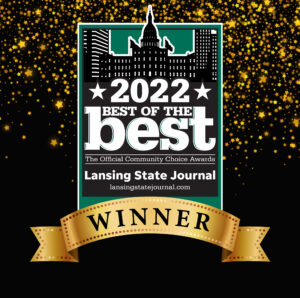 AWARD WINNING SERVICE: 
Tunes By T was voted Best of the Best for Wedding/Event DJs 2022!
Tunes by T has been honored with The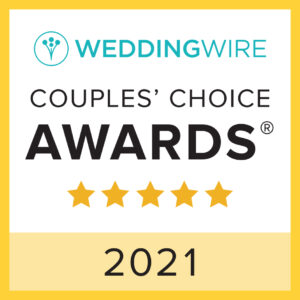 WeddingWire "Couples Choice Award"  13 times. This means that we are consistently among the Top 5% of over 250,000 wedding service providers nationwide!  This award recognizes wedding professionals from the WeddingWire network who demonstrate quality and service excellence in the wedding industry based on client feedback.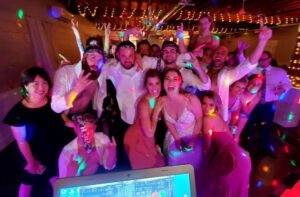 EXPERIENCE & PROFESSIONALISM:  We are now celebrating 40 Years providing worry-free wedding celebrations, parties and dances.  Our DJs are well-groomed, professionally attired, attentive to your needs, personable and fun.  We see it as our job to make sure that your event flows according to your desires without stealing the show in any way.  Take a look at how detail-oriented our Reception Planner and Event Planner are.
STATE-OF-THE-ART SOUND AND LIGHTING:  Your music selections are delivered digitally through our top-of-the-line commercial audio equipment.  Not only is our equipment capable of delivering very rich, powerful sound to enhance a perfect dance atmosphere, we are also very conscious as not to overwhelm your guests during the social portion of your event.  Our consoles are custom skirted to match your decor.  You won't see or hear our company advertised at your event.  LED dance lighting is included at no additional charge and is optional.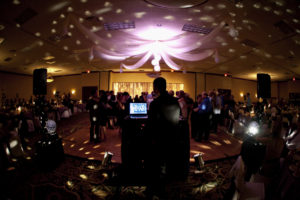 OUTSTANDING MUSIC SELECTION:  We have the most extensive, up-to-date music library in the business.  Take a look at our playlist and see if we have the type of music that you're wanting to hear at your function.  We let you pick as much of the music as you'd like.  We'll use your playlist as our guide.  You can also let us know how you want us to handle requests from your guests.  If you're not sure what will go over well, leave the guesswork to us.  We take pride in having the ability to read a crowd and figure out what music will keep them on the dance floor the entire event.  We will not use your event to showcase our "mixing" or "mash-up" skills.  The music is presented just like you hear it on the radio, without explicit lyric content and not remixed.
DYNAMIC DJs:  Professional, energetic and enthusiastic DJ's are what most separate Tunes by T from all the rest. We love what we do and it shows. We maintain our excellence by personally training only a handful of select individuals whose sole job is to provide you with quality service. Our DJs are well groomed, professionally attired,  personable and fun. Our vast music knowledge gives us the ability to play just the right music at just the right time to ensure a non-stop festive atmosphere. We utilize our talents to ignite and energize dozens of people on the dance floor. We've also been called upon to enhance the atmosphere for thousands of sports fans at the most exciting sports venues in Michigan. We are the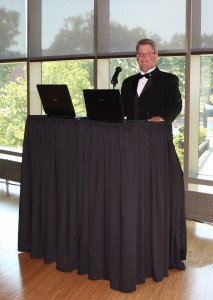 exclusive entertainment service for Michigan State University Athletics.
Let Us Put Our Talents To Work For You! 
Call Tunes By T,  "The Party Professionals"
                               (517) 338-8637